Welcome to Futamatagawa Catholic Church home page.
A Guide to Futamatagawa Catholic Church
Origins and Development :
Futamatagawa Catholic Church (hereinafter referred to as our church) began from the pastoral activities undertaken around Futamatagawa by Father Joseph Debard, a French priest of the Association Priests of Prado, who came to Japan in October 1964.
Our church is now a community of approxi-
mately two thousand Catholics living mainly in Asahi-ku, Seya-ku, Hodogaya-ku, and Izumi-ku in Yokohama.
Although our church is a relatively new parish in the Diocese of Yokohama, we will celebrate the 50th anniversary of the dedication in February 2015.
Our church has as its patron saints the Twenty-Six Martyrs Saints of Japan, who were executed in Nagasaki by the order of Hideyoshi Toyotomi on February 5, 1597.

The photo to the right shows the monu-
ment to the Twenty-six Martyrs Saints of Japan at Nishizaka, Nagasaki.
The Parish Priest :
Father Jacob Jin Ku Kang (姜真求)
・1968 : Born in Seoul, Korea
・1994.7 : Ordained priest (Archdiocese of Seoul)
・2004~2016 : Parish Priest of the Diocese of Uijeongbu, located to the north of Archdiocese of Seoul,
・2016.11 : Sent from the Diocese of Uijeongbu, Korea to the Yokohama diocese
・2017.4 : Assistant Parish Priest, Sueyoshi-cho Church
・2018.1 : Installed as Parish Priest at Futamatagawa Church
HISTORY :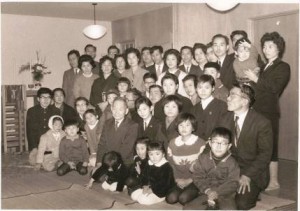 Until the first church building was constructed, Mass and family gatherings were held in the homes of parishioners. At that time rapid economic growth had begun and the population of Futamatagawa was also growing fast against the backdrop of the rapid urbanization of Yokohama. Although the price of land was also going up, Futamatagawa was the best place one could ask for to start a new parish.
Father Debard, the first Parish Priest, was appointed to build a church in this promising area, but he experienced many difficulties at first. Finally, he was able to overcome the shortage of funds by selling his own property in his homeland France.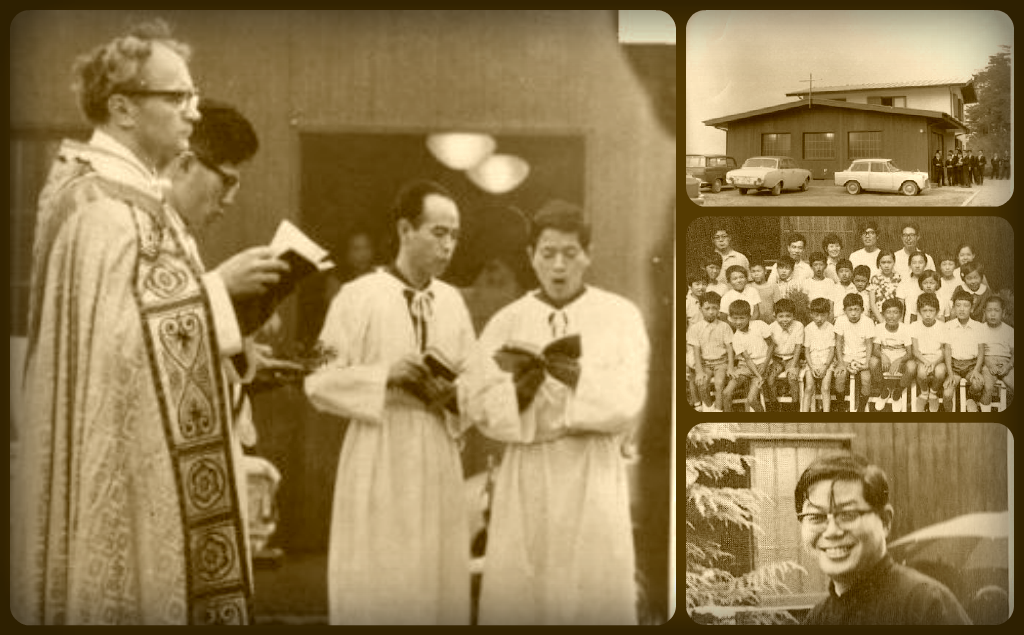 The first church was built in February 1965, and Mass was celebrated there for the first time. Many episodes from the early history of the parish, together with the energetic pastoral activities of the second Parish Priest, Father Charles Loubère, a member of the Association Priests of Prado, have been handed down to the present day as the cornerstone on which our church was built.
The present church building and rectory were newly consecrated in May 1995. The number of parish members at the time of founding was 160, and has grown to 2,060 (registered parish members).
The church has had fourteen pastors since the first pastor, Father Debard, up to the present pastor, Father Jin Ku Kang Furthermore, God gave us the honor that eight priests were born from our church.
Six priests from the parish who are currently active in the Catholic Church
(date of ordination, currently assignment)
① Fr.  Keisuke Suzuki  (1977, Yamate Church)
② Fr. Hirohito Serizawa  (1988, Fujisawa Church)
③ Fr. Shinichi Shiraki  (1989, Ueda, Komoro Church)
④ Fr. Takehisa Hayashi  (1990, Shizuoka Chiyoda, Hachiman Church)
⑤ Fr. Takeshi Imaizumi  (2007, Kaminoge Church)
⑥ Fr. Yoshihiko Makiyama (2016, Shizuoka Chiyoda, Hachiman Church)
Past and Present Parish Priests of the Church :
① Fr. Joseph Debard (Association Priests of Prado) 1965-1968
② Fr. Charles Loubère (Association Priests of Prado) 1968-1969
③ Fr. Toshio Ito  1969-1977
④ Fr. Kazuo Tashiro  1977-1981
⑤ Fr. Tetsuo Haraki  1981-1983
⑥ Fr. Alfred Burke (Order of Saint Augustine [O.S.A.]) 1983-1992
⑦ Fr. Koichi Ukai  1992-1996
⑧ Fr. Makoto Suzuki  1996-2002
⑨ Fr. Ken Mazur (Pontificio Instituto Missioni Estere [P.I.M.E.]) 2002-2004
⑩ Fr. Biffi Maurizio (Ponticio Instituto Missioni Estere [P.I.M.E.]) 2004-2005
⑪ Fr. Jacques Grenier (Quebec Foreign Missions Society) 2005-2012
⑫ Fr. J.Y.Lee (Association Priests of Prado) 2012/4-2017/4
⑬ Fr. Naoya Sasaki 2017/4-2017/11
⑭ Fr. Jin Ku Kang 2018/1-
************************************************** (January 2018)
ACCESS :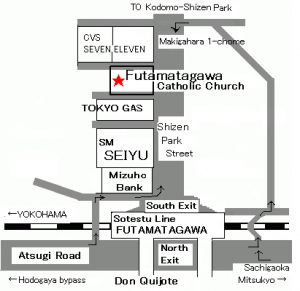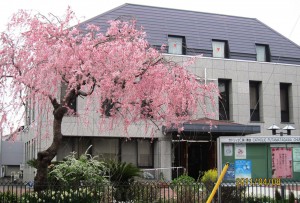 Futamatagawa Catholic Church is located in the south side of Futamatagawa station on Sotetsu line. It takes about 10 minutes from Futamatagawa to the church by walk.
Go to the south side of the station, go up the hill by the straight road. You will see Super Market SEIYU on your left. You will soon arrive at the church on your left.
If you use a car,
Please pass out from Futamatagawa interchange (Hodogaya bypass) . And turn left at the front of Futamatagawa station. Next, Cut across the tracks and turn right. To do so, leaving the South exit of the station. After, a straight to the South.
Also if the proceeds from the border towards Mitsukyo. turn right the intersection of Sachigaoka After across the overpass, Turn left Road continues as Makigahara 1-Chome intersection. Turn left there and Futamatagawa Church is located on the right side.
※Parking spaces are very narrow. Please use the parking (fee required) of Super Market SEIYU.
*****************************************************************
Address :
2-36 Futamatagawa, Asahi-ku, Yokohama, Japan 〒241-0821
TEL :045-391-6296
FAX :045-391-6294
*****************************************************************
Mass Schedule :
Please refer to the mass schedule on the top page of our home page.
Tel:045-391-6296 (Mon.- Fri. 10AM- 4PM)
Sunday:  9:00 AM ・ 10:00 AM
Saturday: 5:00 PM
Weekdays Mass – 10:00 AM (Church Prayer: 9:30AM)
Information Archives :
◇ Annual-Schedule-Church is in production.